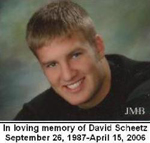 Why are the PCYFL Players wearing a DS on the backs of their helmets?
"The times we may not remember but friends we'll never forget."
We felt it was important to honor the memory of David Scheetz, a Platte County Youth Football Alumni, who was killed in a car accident in April 2006. A football containing DS can be seen on the helmets of youth football players as a tribute to the incredible sportsman and human being he was.
David was the kind of boy all parents hope their child becomes. Mentor and friend to younger students, David always made time to talk with anyone who approached him. His larger than life personality and ability to enjoy every moment made people gravitate to him and instantly feel like they were a true friend.
David's parents, Bill and Paige Scheetz, played a key role in the early years of the Platte County Youth Football program. We are grateful to them for moving to our district and sharing this wonderful person with us. He will forever hold a place in the hearts of many Platte County residents as will his mom, dad and sister, Angela.